VIVIAM MARIA LOPEZ 
Locutora, Presentadora, Productora, Personalidad de Radio y TV, Investigadora de la Música, Storyteller 
Ganadora del DAVEY Award, Latin Jazz USA Chico O'Farrill Lifetime Achievement Award  y dos premios Carteles | Nominada dos veces a los premios EMMY
Conozca más sobre la trayectoria de Viviam Maria Lopez a través de su labor en el campo de las comunicaciones y sus diferentes facetas profesionales descritas a continuación. ¡Gracias por acompañarnos!
LOCUTORA DE RADIO
Cubaneando con Viviam María

–

Creadora, productora y conductora de su programa semanal que recibió el Premio Carteles como "

Mejor Programa de Música Cubana

". Desde el 2011, el programa sale al aire cada miércoles a las 7:00 pm por 88.9 FM- Miami y mundialmente en

wdna.

org.

Cubaneando lleva al oyente por un viaje a través de la música cubana, su historia y expansión global. Cada emisión trae una interesante mezcla de rarezas musicales, música cubana de antaño, y estrenos en primicia mundial, interpretada por músicos cubanos y extranjeros, en cualquier parte del mundo. La emisión enfatiza en el aspecto histórico y cultural, para preservar el pasado y difundir las nuevas propuestas musicales que rara vez se escuchan en otras emisoras. Tiene además la característica de ser conducido en inglés, así, expandiendo el rango de oyentes angloparlantes. En el 2023, el programa cumplió 12 años al aire y se puede escuchar en diferido -24 horas al día-  por https://www.mixcloud.com/viviam-maria/ 
Fusión Latina (WDNA 88.9FM)– Conductora y productora por 15 años de este programa seleccionado como "Mejor Programa de Música Latina"  por New Times magazine.
Radio Aeropuerto

(990 AM) –

Locutora y talento de voz (voiceovers).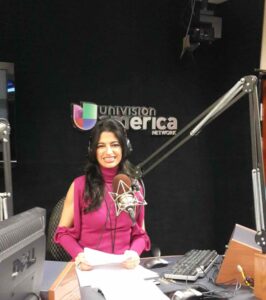 CONDUCTORA Y EDITORA DE NOTICIAS

Univisión América Noticias – Conductora del programa matutino de noticias, al aire en 9 emisoras de EEUU. Viviam Maria llegaba cada mañana a los oyentes en las ciudades de Miami (Florida), Chicago (Illinois), Los Angeles (California), Las Vegas (Nevada), y en Dallas, Houston, McAllen, Austin y San Antonio (Texas).

PRESENTADORA DE TV
All That Is Jazz –

Presentadora, guionista y co-productora de este programa de entrevistas a artistas del mundo del jazz y otras disciplinas artísticas.

Jazz at Wolfson Presents Special –

Como presentadora, Viviam Maria fue

ganadora con el premio DAVEY y nominada al premio Suncoast EMMY

Say Yes to the Prom Dress, Say Yes to College

– En su labor de presentadora de este programa educativo presentado por Discovery Channel, Viviam Maria fue nominada al premio Suncoast EMMY

Figure'n the Arts

– Presentadora de este programa de TV que explora el mundo de las artes, en las disciplinas de danza, música, artes visuales y teatro (New World School of the Arts)

Nightlife

(Tele-Miami)

– Animadora del show que daba una vista al mundo del espectáculo en las noches de Miami 
DOCUMENTALES 
Gloria Estefan

:

90 Millas – Viviam Maria r

ealizó los voiceovers, entrevistas y traducciones al inglés y español del documental radial sobre el  álbum 90 Millas que fue ganador del Grammy Latino 

Old Man Bebo-

Asistente de Producción en el documental sobre la vida del maestro Bebo Valdés 

El Gran Fellove –

Entrevistadora, traductora y realizó labor de producción

en el documental dirigido por el actor y director Matt Dillon sobre la vida del showman Francisco Fellove radicado en Mexico

Ivy League Rumba

– [Nominado a EMMY y ganador del Aurora Award] – Entrevistada por Joe Cardona, director

Una Noche en la Vida de Paquito D'Rivera

– (Ganador Mejor Documental, Cinemafest 2021) – Entrevistada por Jorge Solino, director
PREMIACIONES A VIVIAM MARIA INCLUYEN
Davey Award de la Academia de Artes Visuales e Interactivas

, por su trabajo como presentadora de televisión en el programa "

Jazz at Wolfson Presents Special

"

Nominada al

Suncoast EMMY de la Academia Nacional de las Artes y Ciencias de la Televisión

como presentadora del especial "

Say Yes to the Prom Dress, Say Yes to College

"  

Nominada al

Suncoast EMMY de la Academia Nacional de las Artes y Ciencias de la Televisión,

como presentadora del especial musical "

Jazz at Wolfson Presents Special

"

Latin Jazz USA Chico O'Farrill Lifetime Achievement Award

por conservar y promover el género musical del jazz latino en Estados Unidos

Premio Honorario Federación de Músicos Cubanos en el Exilio

por su labor investigativa y preservación de la música cubana. 

Premio Carteles

destacando su labor en el campo de las comunicaciones

Premio Carteles

al

Mejor Programa de Música Cubana 
TALENTO DE VOZ/VOICEOVER
Comerciales para TV y radio

:

Humana, Paco De Lucia, Miami International Song Festival, Buika, Catalán Cosmetics, Miami Big Band Project, Master of Mambo, Federico Britos, MDC Hall of Fame, Florida Women's Hall of Fame (biografía sobre Helen Aguirre Ferré) 

CyberSecurity Center of the Américas

– Talento de voz para este comercial

The Berlin Wall – Virtual Reality App –

Voz guía en la aplicación movil de realidad virtual explorando la caída del Muro de Berlin 

Museo de Ciencias de Mañana (Museu de Amanha) en Rio de Janeiro, Brasil-

Voz guía en la app de realidad virtual "Amazonia" 
CONFERENCISTA/CHARLAS
Miami Dade College – Conferencista sobre el tópico "The Miami Sound: The Shape of An Identity" en el Hialeah Campus.
Florida International University – Cuban Research Institute –

Dictó

cátedra sobre el jazz afrocubano y Latin Jazz en el panel de expertos liderado por Cristobal Diaz-Ayala

Festival IFE-ILE| BailaUSA! –

Presentó

una

charla sobre la rumba y la música afrocubana

Hands of Fire

– Ponente en el simposio del documental del percusionista Cándido Camero en el Tower Theater

Miami Dade College – Panelista sobre topico de la creatividad, como artista femenina en la industria de las comunicaciones. "Miami Women in Art: A Panel Discussion on Cultivating Creativity"–
INVESTIGADORA DE LA MUSICA
Magazín

El Pequeño Café –

Periodista/redactora. Artículos incluyen la vida de Cándido Camero, Paquito D'Rivera, Cachao.  
JUEZ DE TALENTO/CELEBRITY JUDGE (jurado en las competencias de búsqueda de talento)
Live! with Gaitán Brothers –

producción de

Emilio Estefan

Young Talent Big Dreams

– Coconut Grove Playhouse

y

Children's Trust (varios años hasta el presente)

Festival Internacional Viva La Musica, Orfeum, European Music Festivals (

varios años hasta el presente)

Hard Rock Café Celebrity Showdown
Festival de la Voz y la Canción Internacional 2023
MAESTRA DE CEREMONIAS/ PRESENTADORA (algunos eventos incluyen)
Miami Calle Ocho
Premio Carteles
City of Doral
Miami Book Fair – Feria del Libro
Miami Fashion Week
The Miami Fashion Show
Carnival on the Mile
Herencia Cultural Cubana
Miami International Song Festival
Hollywood Jazz Festival
Miami Downtown Jazz Festival
Viva Broward Festival
Viva Brasil Festival
Teleton USA – Univision
Tropicana All Stars
Mambo Babalú
60 Years of Cuban Music Exuberance
Noches Tropicales
Liga Contra el Cáncer
Miami Dade College – Commencement Ceremonies, Service Awards Ceremonies, Honors Day Ceremonies, MAGIC, FIU-MDC Articulation Agreement Ceremony, Miami Culinary Institute, Miami Hospitality Center
Miami Fashion Institute
Global Cuba Fest (15 years in a row)
60 Años de Jazz Afrocubano
Bebo Valdés en Jackie Gleason Theater
Tributo a Celia Cruz
Arturo Sandoval/Amaury Gutierrez
Paquito D'Rivera
Hands of Fire Candido Camero
Noche de Danzón – Koubek Center
Tributo a Benny More
Miami Latin Jazz Nonet
Cachao: Master of Mambo (100 Años de Mambo)
Conciertos por la Libertad
Miami Dade County – Art Fashion Show
La Convencion de la Cubanidad

ACTUACIONES EN TEATROS
Adrienne Arsht Center for Performing Arts
Lincoln Theater
Miami Dade County Auditorium
Fillmore Theater
Gusman Center for the Performing Arts
Manuel Artime Theater
Jackie Gleason Theater
James L. Knight Center
Fillmore Theater
WATSCO Center
Marlins Park (loanDepot park)
PRODUCTORA/DIRECTORA ARTISTICA (de eventos incluyendo)
Una Noche Entre Amigos

– Evento seleccionado entre "Lo Mejor del Año" por el Nuevo Herald  

Estrellas Para Una Estrella –

Dedicado al director Germán Pifferrer

Conciertos por la Libertad

– Homenajes a variados artistas, entre ellos, Benny More, Orlando Vallejo, Amaury Gutierrez, Armando Larrinaga, Jorge Luis Piloto, Carlos Oliva, Raul Gomez, etc.
MODELAJE/MODAS
Calendario Cuban Beauties

– Viviám Maria fue "Miss October" la Srta. Octubre en el calendario La Belleza Cubana. 

Comerciales de televisión

– (Buick, Tropical) – Modelaje en revistas y

fashion shows

(Paul Mitchell Hair) 

Calendario musical

–

"Desde La Bahia-Dedicated to Pioneers of Latin Music" 
MUSICO
Viviam Maria fue corista/vocalista en el disco "Tradición" de la Orquesta Tropicana All Stars, nominado al

GRAMMY

y

Latin GRAMMY

como 'Mejor Album Tropical Tradicional'.
ARTICULOS SOBRE VIVIAM MARIA HAN SIDO PUBLICADOS EN REVISTAS O MEDIOS COMO ESTOS – HA SIDO ENTREVISTADA EN:
Carteles Magazine, El Nuevo Herald, Diario Las Américas, Latin Beat Magazine, El Mundo, Continental Newspaper, Libre Newspaper, Infobae 

MEGA-TV, WLTV Canal 23 Univisión, TV Martí, AmericaTeve Canal 41, WGEN-TV, MiamiLatinTV y WPBT- Canal 2 

WQBA 1140AM; WAQI- 710 AM; Radio Marti; WWFE 670AM en Miami; y Radio WADO 1280 AM en Nueva York
EDUCACION
Graduada con altos honores (

Magna Cum Laude

)

de la

Universidad de Puerto Rico 
Licenciada en Arte

, especializada en

Comunicación Pública

 

Certificada en

Recursos Humanos

de

Florida International University
Graduada del programa Leadership Miami

de la Cámara de Comercio de Miami – Greater Miami Chamber of Commerce