Viviam Maria Lopez

Radio & TV Personality – Voice Talent – MC – Producer – Cuban Music Connoisseur – Proud Miamian
Ms. Lopez has a Public Communications degree from the University of Puerto Rico where she graduated with high honors (Magna Cum Laude). She has a Personnel Administration certification from Florida International University and is a graduate of the Leadership Miami program of the Greater Miami Chamber of Commerce.
She is the creator, curator, and host of the award-winning weekly program Cubaneando with Viviam Maria, a specialty show about Cuban and Latin music, its history, and global expansion. She can be heard live every Wednesday at 7:00 pm (ET) in Miami on 88.9 FM radio, and worldwide at www.wdna.org, TuneIn Radio, and iTunes Radio.  To access previously aired programs, visit Mixcloud.com. Her program was selected Best Cuban Music program (Carteles awards).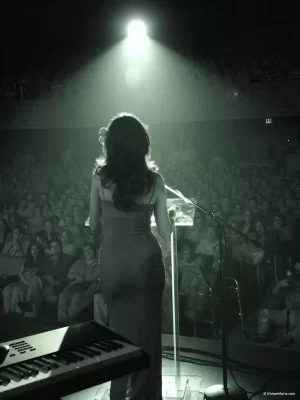 Viviam joined the ranks of WDNA 88.9FM public radio in 1995 and for 15 years hosted the Monday edition of the two-time award winning program Fusion Latina ("Best Latin Music Program", New Times Magazine). Previously, she worked at South Florida's RadioAeropuerto (990 AM) and at WRTU 89.7 FM radio in Puerto Rico.
Viviam was also editor and announcer for Univision America's morning news program in 9 radio stations in the cities of Miami, Los Angeles, Las Vegas, Chicago, Dallas, Houston, San Antonio, McAllen, and El Paso, and nationwide at UnivisionAmerica.com. This daily morning show was rated number one news program in the network.
She did narrations, interviews and bilingual interpretations in Gloria Estefan's national radio documentary of the Latin Grammy-winning recording 90 Millas. She also was production assistant in the documentary Old Man Bebo, on the life of the legendary pianist/arranger/composer Bebo Valdes, and collaborated with Matt Dillon and Joey Altruda in the documentary El Gran Fellove. 
You will also hear Viviam in TV and radio commercials for Humana, Paco de Lucia, Buika, Miami International Song Festival, Miami Big Band Project, Cybersecurity Center of the Americas, Catalan Cosmetics; and in greeting messages in Spanish, English and Portuguese of several private companies. Her voice will guide you on the bilingual virtual reality mobile apps of the tour of the Berlin Wall and Rio de Janeiro's science museum, Museu do Amanhã, produced by the Miami Animation and Gaming International Complex at MDC. 

She is an independent music journalist and researcher. Several of her articles on Latin music and music legends have been featured in Miami's cultural magazine El Pequeño Café.  Viviam has been an invited speaker at Florida International University's Institute of Cuban and Cuban American Studies Conference; the IFE-ILE Baila USA Music and Dance Festival; Cándido Camero Hands of Fire documentary symposium at the Tower Theater; and a panelist at the Miami Women in Art: A Panel Discussion on Cultivating Creativity, at Miami Dade College Wolfson Campus.  
Viviam was nominated for the Suncoast Emmy Awards and won the Silver Davey Award for her work as TV host and announcer for the Jazz at Wolfson Presents Special. She was also nominated for an Emmy for the show Say Yes to the Prom – Say Yes to College at MDC for Discovery Communications.
Viviam was granted in New York an Honorary Award by the Federation of Musicians in Exile in appreciation for her ongoing investigative work and preservation of Latin music history.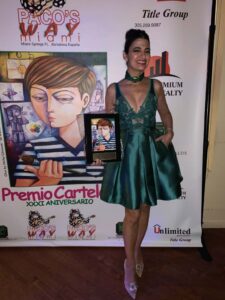 She also received in Miami twice the Carteles Award from the long standing Carteles Magazine as recognition for her endeavors in the field of communications. She was honored as well with the Latin Jazz USA Chico O'Farrill Lifetime Achievement Award recognizing her outstanding contribution in the development and preservation of this genre in the USA.
Viviam has served as celebrity judge for the talent search show Live with Gaitan Bros. produced by Emilio Estefan Crescent Moon Studios. For several years, she has been judge for the Actor's Playhouse Young Talent Big Dreams competition and auditions presented by The Children's Trust, and was celebrity judge at the Hard Rock Café Show Down in the City of Aventura.
Ms. Lopez's work as master of ceremonies includes major events such as Carnival Miami SunDay on the Mile, Calle Ocho, Miami International Song Festival, Hollywood Jazz Festival, Viva Broward Festival, Global Cuba Fest, Miami Jazz Film Festival, Viva Brasil Festival, An Evening of South American Jazz, Tropicana All Stars Show, 60 Years of Cuban Music Exuberance, League Against Cancer, Jazz at Pinecrest Gardens, Noches Tropicales, FIU's Hurtado de Mendoza Genealogy Collection.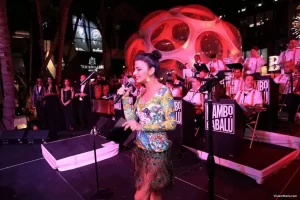 As a performing artist, she has presented countless concerts and cultural events such as Celia Cruz Tribute, Paquito D'Rivera, Bebo Valdes, Benny More Tribute, Candido Camero, Miami Latin Jazz Nonet, 100 Years of Romeu Family Musical Legacy, Bobby Carcasses, Gema y Pavel, Carlos Oliva y Los Sobrinos del Juez, Interactivo, and many more, and has performed at important and historic venues including the Adrianne Arsht Center for the Performing Arts, Miami Dade County Auditorium, Gusman Center for the Performing Arts, James L. Knight Theater, Manuel Artime Theater, Jackie Gleason Theater, Lincoln Theater, WATSCO, loanDepot Marlins Park, and others.
Viviam was artistic director, MC and producer of the benefit concerts Una Noche Entre Amigos for trombonist/director Juan Pablo Torres (selected one of 2004 Best Live Events, The Miami Herald); the Estrellas para una Estrella for maestro German Pifferrer, and the Freedom Concerts, bringing together some of Miami's top Latin artists.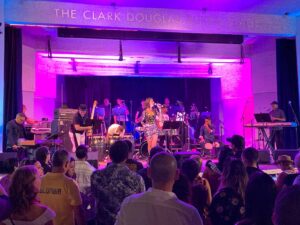 As a model, she has done TV and print ads, fashion shows, hosted a show on Tele Miami, and was Miss October in the Cuban Beauties swimsuit calendar. In the music realm, she appears in the Pioneers of Latin Jazz calendar, and was backup vocalist in the Grammy and Latin Grammy nominated recording Tradición (Best Traditional Tropical Album).
Ms. Lopez is the Vice President of the Board of Trustees of WDNA 88.9 FM radio. She served on the Board of the Hispanic League of Scenic Arts, was a member of the National and Latin Grammy Recording Academies (NARAS & LARAS), and the Greater Miami Chamber of Commerce.
Press features and interviews in the media about Viviam Maria Lopez include:
– TV: WLTV- Ch. 23; WJAN-Ch. 41; TV Marti; WGEN-TV; Miami Latin-TV; WPBT; AmericaTeve Channel 41; GCTV1
-Radio: WQBA 1140-AM; WAQI 710-AM; WWFE 670-AM; Radio Marti (Miami); WADO 1280-AM (New York)
–Print: The Miami Herald, El Nuevo Herald, Diario Las Americas, El Mundo Newspaper, Latin Beat Magazine, Miami New Times, Revista Carteles, Libre Magazine, Continental News, Infobae.
-Online: Latino Broadcast Company-Immigrant Archive Project; infobae.com; uVu WPBT-Ch. 2; MDC-TV